Tour Our Cape Cod Self Storage Facility in Falmouth, MA
Falmouth Self Storage is proud to offer individuals and business the finest "state-of-the-art" storage facility and best customer service on Cape Cod. Our climate-controlled storage facility is perfect for your valuable personal belongings, commercial equipment or supplies, business records, or for medical, legal, financial, & data storage management.
We make storage convenient with ADA-compliant access on all levels, ramps, automatic doors, an elevator, loading dock, and dollies & carts for on-site use.
Our Falmouth MA self storage facility provides optimum security and peace-of-mind with full perimeter exterior lighting, interior & exterior video surveillance, keypad access, an intercom throughout the storage facility, full fire sprinkler protection, and more!
Handicap Accessible:
A.D.A. compliant access on all levels
Ramps / automatic doors
Extra-wide hallways
Staff assistance & support
Handicap compliant ground level access
A large, well-lit elevator
We Are A Green Facility:
All electricity at our storage facility is powered from solar panels.
Year Round Climate Control:
Humidity & temperature regulated
Entire facility is fire sprinkler protected
Nine separate zones
Security Systems:
Full perimeter exterior lighting
Digital video surveillance, interior & exterior
Fenced & gated, full perimeter
Keypad access, entry, & exit
Intercom throughout for immediate assistance
Bright, friendly, well-lit interior corridors
Entire facility is equipped with fire detection technology
Occupant insurance available
Comfort & Convenience:
Humidity & temperature controlled environment, year round
Automatic open/close entrance doors
A loading dock
Dollies & carts for your on-site use
A large, well-lit elevator
Intercom throughout for immediate assistance
Clean, secure, warm family-friendly facility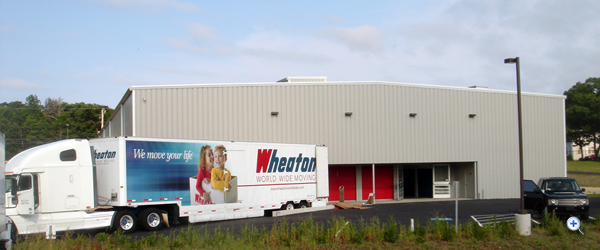 Moving van at the rear of Falmouth Self Storage, Falmouth, MA